Bertrand
Bertrand has always been naturally quite strong and fit. He was also the most 'experienced' rider in our small group of untypical athletes which gave him an additional extra edge. He quickly got to be known in the group as "The Lion". This nickname is probably not unrelated to the genetic disease which has been bugging him since early childhood: muscle hypertrophy.

Bertrand is our Gentil Organizer.
He usually handles the planning of each day in our itineraries. He is the one who releases also the scheduled distance for each stage to the rest of the group. Newcomers are warned that it is reasonable to
add 10%
to the official distance communicated by Bertrand.
Bertrand is also known not to let go. Although in 2011, after a journey of six days leading us from Orleans to Saint-Jean-de-Luz via Toulouse, he was weak enough to whisper:
"Guys, I'm shattered, I can't be in the lead, I'll just be drafting at the back..." Which triggered some happy smiles on the faces of Fred and Guillaume and a sudden acceleration of the pace to enjoy this special moment even more
.
After that occurrence, Bertrand became
"The Old Lion" b>
.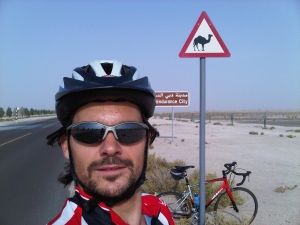 Bertrand is planning to ride the entire 2015 Tour de France.
Traning
Location
Dubai, United Arab Emirates